non-photorealistic
All posts tagged non-photorealistic
PSOFT Pencil+ 4 for 3ds Max 2015 to 2018 Win
Digital Tutors – Creating Cartoon Sets in Maya
Learn a time-saving workflow to creating cartoon sets, look development for environments, and production techniques for modeling, UV layout, texturing, and shader assembly.
Contains over 6 hours of project-based training and guides artists step-by-step through a proven approach to the modeling, texturing, and shading processes of creating stylized cartoon sets and environments as seen in animated feature films.
http://www.digitaltutors.com/store/product.php?productid=3409&cat=39&page=1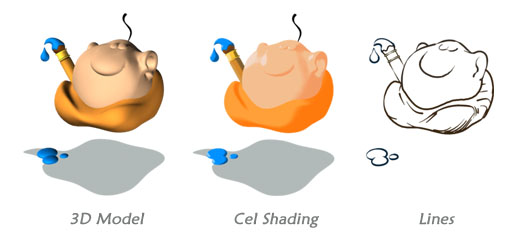 What is Illustrate!?
Illustrate! is a non-photorealistic renderer.
It allows you to render your 3D scene in a variety of artistic styles. The most common is the cel or toon style where the objects are rendered with a single or limited number of colors and the edges are drawn with a line. This version of Illustrate! is particularly adept at this style of rendering. It includes a lot of advanced features for creating film resolution cel renderings